MECHATRONIC MODULARIZATION
MAKING COMPLEX SYSTEMS CONTROLLABLE
Standards that are not usual
In the field of mechanics, the use of constructing kits has become state-of-the-art in mechanical and plant engineering. With the help of a mechanical modular construction kit, manufacturing and assembly costs can be reduced efficiently. However, if you also want to reduce engineering costs in the area of software and control, as well as commissioning costs, in the long term you need a mechatronically coordinated modular system. 
We help you customize concepts
Mechanical and plant engineering is faced with increasing market requirements regarding individual machine configuration, tailor-made concepts and the integration of subsystems.
Because of increasingly intelligent components, this challenge can no longer be met by a purely mechanical modular system.
In view of the growing proportion of electronics and above all because of the increasing portion of software, mechanical engineering needs concepts that counteract the rise in engineering costs and still allow fast response times to customer needs.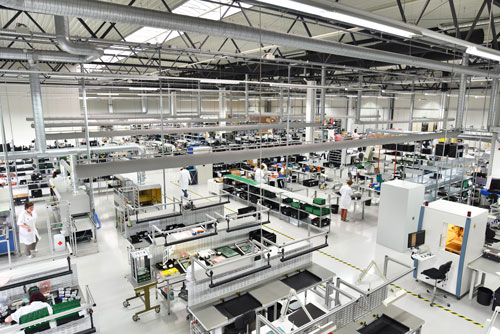 Fast and flexible order-specific solutions
A complete mechatronic structuring of the product portfolio can be successively developed on the basis of existing or newly defined individual construction kits.
Consistent reuse of modules not only saves you engineering and material costs. It also significantly simplifies commissioning and service. This helps reduce your expenses even with increasing complexity of the overall system.
Our specialists support you in building a mechatronic library, which enables you to develop order-specific solutions very quickly and flexibly.
This is how you benefit from our approach
Reuse of modules
Independent development of modules
Development & production at distributed locations
Shorter order processing times
Less engineering effort
All systems are based on the same standards
Creation of a detailed product catalog
Saving time in development through parallel work
The complexity of the systems is kept manageable
Modules can be tested separately
Significant cost savings e.g. through reuse, prefabrication options and higher quality
Sustainable and flexible structure
The first step in the modularization of a system is the analysis of the existing systems, the functions implemented by them and the operating equipment (actuators/sensors) built into them. The functional units and the corresponding interfaces and possible combinations can then be defined on this basis. This has to be done in an interdisciplinary way in order to be able to correctly weight the various pros and cons of the possible solutions.
Ideally, a set of rules is developed on the basis of which decisions can be made. Therefore, the previous work in each department must be analyzed for
similarities/differences in order to define and structure modules in interdisciplinary collaboration, or to develop new variants/options. On this basis, the engineering documents in the individual disciplines have to be partially restructured or newly developed.
We offer you
Analysis of previous standards and implemented concepts
Structuring with regard to discipline-specific and mechatronic aspects
Development of a variant and option concept for the design of a type code
Tool selection to support engineering
Optimization and modularization of engineering documents
Restructuring of software modules
Revision of the electrical hardware documents
Analysis of mechanical assemblies
Support in creating mechatronic function descriptions
Data preparation/migration of existing data
Introduction and application support
Moderation of the interdisciplinary design process for the modular system
Developing a really functional, mechatronic kit is a real challenge – both technically and socially. But it's worth it in every way!
Anton Fritsch, Senior Consultant