VR AND AR IN MECHATRONICS
ENGINEERING IN VIRTUAL SPACE
Competitive advantage virtual
Virtual (VR) and Augmented Reality (AR) applications with data glasses represent a modern way of supporting staff on site from a distance. Sales meetings or service and assembly work can take place remotely. VR or AR applications also offer decisive competitive advantages in the development of machines and systems. We show you possible applications in your company and support you throughout the entire process.
Do your teams speak a common language?
Today's development teams are interdisciplinary and development projects across locations, with several disciplines contributing partial developments. Each discipline has its own language and tools (M-CAD, E-CAD, SW design).
The use of VR/AR can support a common understanding. In addition, the presence of a specialist on site for service and maintenance is not always possible or only  possible with cost-intensive trips to the customer on site. With the help of Virtual and Augmented Reality applications, problem situations can be solved quickly and easily.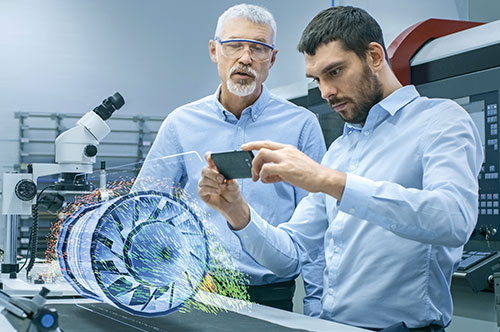 Divers application possibilities of Virtual and Augmented Reality
Thanks to Virtual Reality, machines and systems can be represented digitally and brought to life virtually. In this way, the respective development status is visually comprehensible for all teams involved.
With the help of VR/AR glasses, the user moves in a virtual 360-degree scene. Here, the perception can be enriched with corresponding information depending on the situation and thus support the user in operation. The use of Virtual and Augmented Reality technologies results in a wide range of possible applications over  the entire life cycle of the machine.
Virtual and Augmented Reality offer you:
Virtual Reality in development
Offers more options than a pure CAD tool

Models can be used from prototypes to virtual commissioning

Support of basic human mechanisms ("turning head", "walking", "thinking in")
Augmented Reality for remote service & assembly
Little hardware/software effort required

Saving of travel times and costs

Faster response times

Exact knowledge of the problem at hand
Which solution will make you successful?
In order to take full advantage of the new technologies, machine builders need clear strategies and plans. The focus is on the provision of the necessary technology, digital models as well as data preparation and processes for visualization.
We show your employees how different expansion stages of a machine or factory can be clearly visualized right from the start, and remotely maintained in the product life cycle. We train your sales staff so that they can make the machine with its functionalities and processes understandable to their customers. Sales benefit from being able to visualize processes.
Our offer pays off for you!
In-house training on VR and AR with a focus on applications in mechanical and plant engineering
Comparison and selection of tools such as Vuforia chalk, XMReality, Scope AR, RE'FLEKT
Development of customer-specific, tailor-made solutions
Cross-location coordination option
Demonstration of possible uses in sales
Early clarification of complex processes in machines and systems
Creation of a common understanding across all trades
The VR/AR tools enable us to support the specialist staff on site remotely. Maintenance and troubleshooting can therefore be carried out live.
Felix Rhöse, Senior Consultant